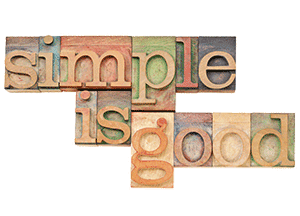 Our Association with The Open Group®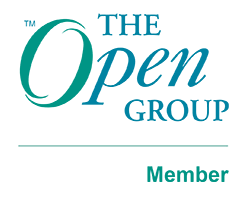 eLearning Launchpad® is a member company of The Open Group® Architecture Forum – the global consortium that manages the TOGAF® standard (the world's leading framework for Enterprise Architecture). Through our membership and licensing agreements, we are able to participate in the evolution of TOGAF and enhance our training by utilizing an extensive amount of TOGAF courseware and training materials provided by The Open Group. This relationship makes our business possible and helps us greatly in providing you with high quality courses and materials.
Top
A TOGAF® 9 Accredited Training Course Provider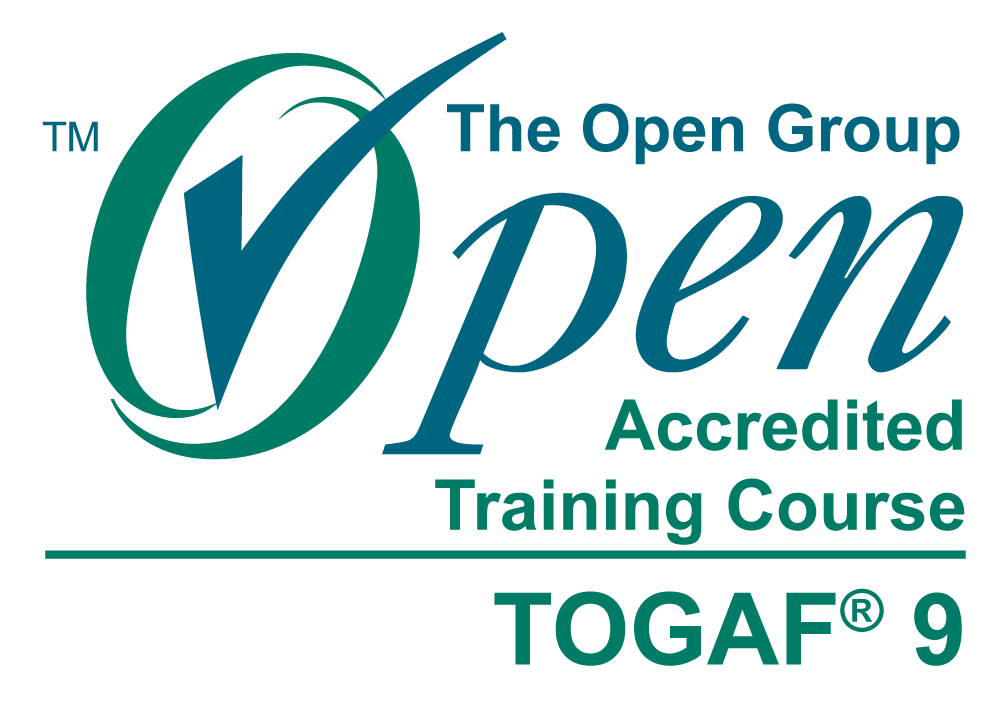 We're proud to say that our company, our quality management processes, our instructor, and our TOGAF course content have been evaluated by The Open Group as part of their rigorous course accreditation process. This process provides an authoritative and independent assurance of the quality and relevance of our accredited TOGAF training course.
"TOGAF® 9 Prep Training (Levels 1 and 2)" from eLearning Launchpad is an Accredited TOGAF® 9 Training Course and complies with the accreditation requirements for The Open Group® TOGAF Certification for People program. The official accreditation record and status for our course can be viewed here.
Top
Our Focus and Approach Make Us Different, In A Good Way
We're committed to helping you elevate your Enterprise Architeture practice through training in the world's leading Enteprise Architecture framework. In contrast to nearly all other TOGAF® training providers, we're focused on providing instructor-led TOGAF certification training for individuals and private groups, in a way that's effective, ultra-affordable, and extraordinarily client-friendly. When you book a private course, our highly-rated and TOGAF® 9 Certified instructor will conduct a course that's completely devoted to your group of 5 or more, in a live virtual format, on available dates that you choose (any available 4 to 8 full/partial days spread as you like over a max range of 10 days; 30 total contact hours). We put you in control of the booking process with a number of highly flexible options for scheduling, setting/adjusting attendee count, and payment. As soon as you're ready, use our client-friendly self-serve ordering system to confidently and easily book your private course in just minutes (and to easily add more attendees to the course if your group size grows over time).
As an alternative or supplement to our flagship instructor-led TOGAF courses, we also offer high quality self-paced e-learning courses focused on TOGAF certification prep training, and derived from recordings of our accredited live course. These e-learning courses are accessible online anytime/anywhere, and are a convenient alternative for individuals, or for organizations that want to extend TOGAF training to people who cannot attend instructor-led courses.
We're very straightforward, transparent, and public about what and who we're offering, and at what price. That means there's no wasted time submitting "information requests" and then plodding through back and forth exchanges with sales people for quotes, instructor identification and review, date coordination, and quote revision cycles (perhaps only to find that the provider can't meet your needs or budget).
Our site publicly provides what clients need most to make a confident "go" decision, and to then book directly if and when they want:
Of course, if you want to discuss other details, options, special requirements, terms or seek assistance of any kind (including making the booking for you), we're always here to help – our instructor is your one-stop contact before and after you make a booking.
Top
Our Origin and Motivation
eLearning Launchpad® is a small business based in the Chicago area (Rockford, Illinois) and was founded by Doug Rinker, who serves as both president and primary instructor. As a TOGAF® trainer, and successful transformation leader over two decades at United Technologies Corporation (a Fortune Top 50 company), Doug has a strong interest in helping organizations learn how to transform and align their business, information, and technical landscapes in the most effective ways – he sees TOGAF® (the world's leading framework for Enterprise Architecture) as the best set of integrated concepts, guidance, and methods to do just that. In his prior experience as a contract TOGAF® trainer for other leading training companies, Doug learned what works best in terms of training formats, methods, and client service approaches, and he's also seen the ways in which clients are underserved by the training industry. We use that experience and perspective to offer a better solution to clients looking for a faster, easier, more affordable, more flexible, and more effective way to get private, in-house TOGAF training that is dedicated to your team.
With the impressively steady growth in popularity of TOGAF 9 in recent years, there is increasing demand for more accessible client-centered TOGAF training that can reach a broader cross-section of the organization while fitting into busy schedules and constrained budgets. The convenience and value of our simple and highly client-focused approach is designed to help more organizations get the TOGAF training they need despite all the common constraints in today's business environment – that committment is what truly sets us apart.
A few statistics: TOGAF® has seen a strong and steady rise in popularity in recent years as more and more enterprises are deciding to learn and leverage this framework as a means to strengthen their Enterprise Architecture and general business/IT improvement capabilities. As a result, TOGAF 9 has become the world's most popular and defacto framework for developing enterprise architecture. In 2016, The Open Group® indicated that 80% of Fortune Top 50 companies are using TOGAF in some capacity. As of 2022, over 118,000 individuals from over 130 countries have been certified in TOGAF 9 -- this represents 3X growth in the number of worldwide TOGAF 9 certifications in just 7 years, and the annual growth rate continues to be steady.
Top
Our Unique Combination of Flexibility and Convenience
We provide unique degrees of flexibility in a convenient, painless process that puts you in control. A number of self-serve features and options are available to fit with your needs and busy schedule, including the details you need for decision making, a simple online booking/reservation service, choice of course type, flexible self-serve date/time scheduling, flexible group sizing and "Add Attendee" service, distributed/deferred payment options, and the ability to add custom in-house agenda items. All options and choices described are covered by our standard pricing.
Feel free to contact us with any questions or requests you might have on other possible tailoring of our offering, options, terms, or booking process that would better fit your needs.

More On Our Flexible Options and Features... Less
Review the details of our offering at your convenience, with no need to "request information" or have "sales" interactions just to get the basic facts you need. Full details on our course, pricing, instructor, and date availability are publicly viewable on our site. Also feel free to contact our instructor before or after you book; he's your direct, one-stop contact point for any other questions or requests you might have about the course, booking process, or terms.
Use our simple, self-serve, online booking service to book your course in a few minutes, whenever you're ready. Your course dates will be automatically reserved when you complete the online booking order.
Spread your course's 30 contact hours as you wish across any 4-8 dates within a maximum span of 10 calendar days, using any available date range shown in our availability calendar. Note that any mix of consecutive or non-consecutive dates may be used within this range, including weekend dates.
Examples:

4 consecutive full days
8 half-days, eg. M-Th of 2 consecutive weeks
4 full days, eg. M-Tu of 2 consecutive weeks
2 full days and 4 half days, eg, Wed-Fri of 2 consecutive weeks
4 full days, eg, Sat-Sun of two consecutive weekends
or, any other combination of 4-8 full/partial days over a 10-day span

For each day, choose your start and stop time, day or evening, whether weekday or weekend
Your private class can be from 5 to 15 attendees (larger classes are possible with prior approval). You have the choice of including the total attendee count in your initial booking order, or, you can just book with a small attendee count initially and then add more attendees later using any number of separate "Add Attendee" self-service orders.
Payment for the initial course booking order (whether all attendees are included in that order or not) can be spread over two payments, with a deposit payment of only $900 required with the initial order. Also, any optional "Add Attendee" order(s) made after the initial booking are paid for separately at the time each order is placed. Each separate payment (ie, initial booking order, second payment (if any), and any additional "Add Attendee" orders) can be made with a different card account or payment method; this can be helpful for organizations seeking to directly distribute costs to participating individuals/departments.
You may optionally elect to add a limited amount of special agenda items into the course to allow in-house leaders / subject matter experts to orient the group as to local plans, motivations, goals, work products, etc that would enhance the motivation and sense of course relavance for attendees. Any such items can be worked out in discussions with our instructor prior to the course.




Less
Top
Why a Private Course for TOGAF training?
The advantages of our unique, client-friendly self-serve approach are obvious, but why do we focus so strongly on private training (vs. typical provider-controlled public course offerings)? Within organizations that are serious about moving forward with Enterprise Architecture and TOGAF®, we've seen significant benefits when a group of trainees come together that share company-specific goals and motivations, represent a cross-section of disciplines that must collaborate going forward, and share an understanding of organization culture, capabilities, issues, and change opportunities. Additional benefits include the option to incorporate client-provided materials and talks by in-house leaders/SMEs to further enhance motivation and course relevance for attendees, as well as the inherent convenience, flexibility, affordability, and efficiency of a private course that's close to home and scheduled to best match attendee availability.
Doing Enterprise Architecture work, and developing an effective EA practice using TOGAF® or any other framework, is very much a cross-functional "team sport". A private setting allows for social learning among key players across the organization, where open discussions can be focused on how topics relate, and can be applied, given the organization's own unique culture, capabilities, goals, and constraints; such interaction and mutual reinforcement of ideas can make all the difference in gaining post-course acceptance and adoption across the organization. In other words, private group training is more likely to foster the desired post-course behaviors, actions, and business results you are seeking. Without reaching the necessary "critical mass" of shared take-aways and buy-in that private training helps to establish, it can be very difficult to gain the momentum needed to develop an effective EA practice.

More On Private Course Advantages... Less
More benefits can come from the ability to sprinkle in special agenda items where your leaders and/or subject matter experts can cover relevant organization-specific information such as EA-related background, goals, plans, reference materials, and the expected relationship TOGAF® might have with other methodologies and frameworks that already exist in-house. Management can remove potential doubt in the minds of attendees that progress toward a TOGAF® orientation for EA is truly encouraged, valued, and backed by key leaders. Subject matter experts can potentially describe plans/accomplishments that demonstrate certain TOGAF® concepts have already taken hold and produced positive results in some areas of the organization. All such localized information can help to make course topics more real, enhance the motivation for learning, and instill a greater sense of course relevance for all attendees; ultimately, more attendees can be inspired to take positive action that will move the organization forward after the course.
Finally, training convenience, efficiency, and access are major benefits. Per-person course pricing is far lower than typical public course fees from other providers, even with the minimum private group size, so training the right number of people across the key areas of the organization is more affordable. You're in control of the booking : Using our simple online booking system, you choose the dates, you choose the date spread (choosing consecutive or non-consecutive days, as desired), you choose daily class times, you choose the number of attendees, and you see the total price upfront for all the options and possible attendee counts – all ways in which you can maximize coverage, make best use of your budget, and schedule a course that fits the availability of the greatest number of attendees.
Unlike many TOGAF® training providers, we emphasize and encourage private group training, as the focus on public courses that is common to many training providers has a number downsides for organizations seeking to train a cross-section of people to develop or drive change in their EA practice. Among the typical public course downsides are: lack of control by clients, lack of organizationally-focused social learning and discussion-driven take-aways for post-course action, time and expense of attendee travel to remote course locations (if not virtual), provider-controlled course dates that may not match well with the availability of the group, substantial risk of cancellation due to low registration counts, potential for limited seats, and a generally higher per-person price driven by venue-related costs and/or the need to offset low attendance risks.

Less
Top
Legal and Business Status Information
eLearning Launchpad® is an assumed name of DAR Solutions, LLC; both the legal name and the assumed name are registered in the state of Illinois, file # 04922654. See complete Illinois registration information in the Illinois LLC database. eLearning Launchpad is also a U.S. registered trademark of DAR Solutions, LLC.
Dun and Bradstreet maintains business profile and credit reports on our business (DUNS number: 079188121). Our ratings consistently indicate our low risk as a supplier, very stable condition, and prompt payment performance.
We have an active registration and certification as a small business with the U.S. government's Small Business Administration (view our SBA profile).
W9 form (for 1099 filings), liability insurance certification, and other supporting documents for training supplier onboarding are available to clients on request.
Our standard Terms and Conditions and Privacy and Security Policy are available for viewing on this site.
Top